STILL TIME TO REGISTER FOR IUC 43! DON'T MISS OUT!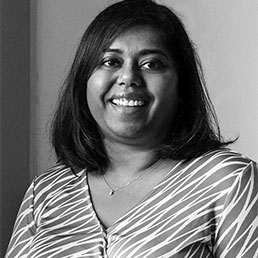 ---
KEYNOTE PRESENTATION
Dr. Rathna Ramanathan
Reader in Intercultural Communication and Dean of the School of Communication, Royal College of Art, London
Don't Believe a Word: Multilingual Typographic Systems and a 100-Year Publishing Project
The Murty Classical Library of India aims to make accessible modern translations of Indian texts in print and online. In the first five years, 22 volumes in 12 different languages have been published.
Please join us as Dr. Ramanathan reflects on the delights and challenges of building a complex, multilingual typographic system for this unique 100-year publishing project. In addition, Dr. Ramanathan will discuss a subsequent research project which aims to create typographic guidelines for Indian languages and scripts.
---
JOIN US FOR IUC 43!
For over twenty-eight years the Internationalization & Unicode® Conference (IUC) has been the preeminent event highlighting the latest innovations and best practices of global and multilingual software providers. Join us in Santa Clara to contribute your ideas and experiences working with natural languages, multicultural user interfaces, producing and supporting multinational and multilingual products, linguistic algorithms, applying internationalization across mobile and social media platforms, or advancements in relevant standards.
Join in with other industry leaders to present your ideas and solutions at the 43rd Internationalization & Unicode Conference (IUC 43) in Santa Clara, California, October 16-18, 2019. We look forward to seeing you there!
---
---